Violence Against Women Act has lapsed again
Women across the nation are expressing anger that the Violence Against Women Act (VAWA) has lapsed for the second time in 25 years, another casualty of Trump's government shutdown.
Authorization for the law's programs expired when the partial government shutdown began just after midnight Friday. The shutdown, which is affecting over 800,000 federal workers, forced VAWA to expire because the law's programs are funded under the Justice Department.
"The landmark domestic violence law was set to expire Sept. 30, but it was extended through Dec. 7 by the first stopgap spending bill and extended again until Dec. 21 in a second short-term bill," said Lisa McCormick, one of New Jersey's progressive Democratic leaders. "As a result of President Donald Trump's temper tantrum, the Violence Against Women Act has expired."
"Don't let this go unnoticed: the Violence Against Women Act, which helps survivors of domestic abuse and sexual assault, expired with the government shutdown," said Sen. Kamala Harris (D-Calif.), adding, "It's deeply concerning."
Women participate in a protest march for survivors of sexual assault and their supporters in Hollywood, Los Angeles.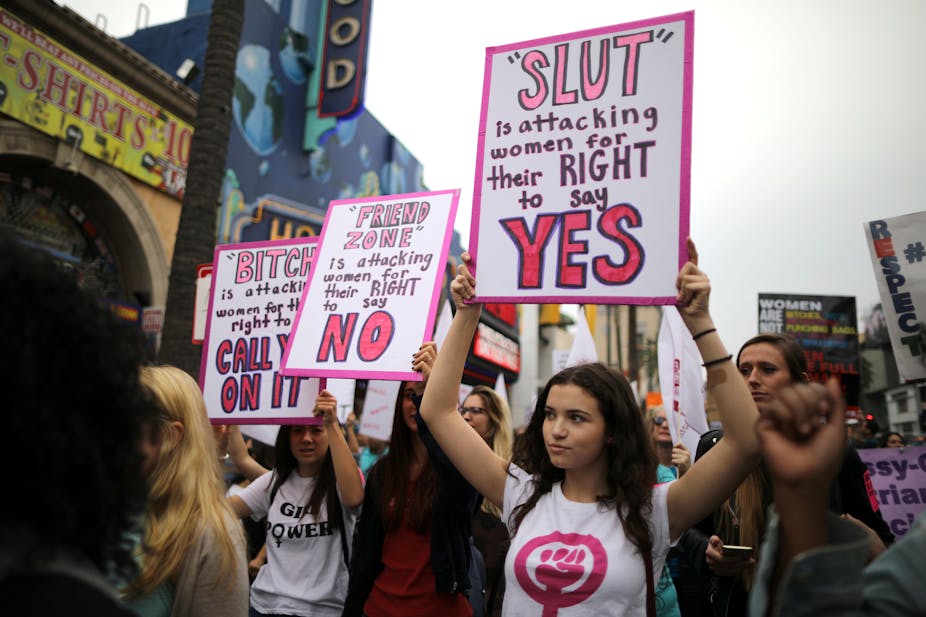 Actor and Me Too activist Alyssa Milano expressed her disappointment: "What kind of country allows its Violence Against Women Act to expire?"
"The Violence Against Women Act ― which supports critical programs to help victims of sexual assault, domestic abuse, and stalking ― expired at midnight. We could have funded it, but @realDonaldTrump would rather shut down the government for a wall that doesn't make us any safer," said Sen. Elizabeth Warren (D-Mass.) in a message on Twitter.
The government shutdown was brought on by President Donald Trump's demand for a $5 billion budget to build a concrete or steel barrier running along the southern border, but members of Congress refused to make taxpayers cover the bill because Trump campaigned on a promise that Mexico would finance the wall.
Critics have noted that most immigrants in America illegally came into the country with visas that later expired, so they question to effectiveness of a wall.
"The law authorizes funding for social service agencies that aid victims affected by sexual violence, including rape crisis centers, shelters and legal-assistance programs," McCormick said. "Reauthorization bills over the years have expanded provisions focused on reporting mechanisms for sexual violence on college campuses and extending protections for the LGBT community."
"One in 3 women and 1 in 6 men will be victims of sexual violence," said McCormick. "Leaving this law invalid, after it was approved with bipartisan support in 1994, 2000, 2005 and 2013, just shows that Americans have political leaders who do not care about the people."
Do you like this post?