New Jersey's minimum wage deal is inadequate
Lisa McCormick released the following statement on Governor Murphy's agreement with legislative leaders to raise New Jersey's minimum wage to $10 an hour:
Governor Phil Murphy, Senate President Steve Sweeney and Assembly Speaker Craig Coughlin have agreed to give New Jersey a $10 an hour minimum wage and call it a $15 minimum wage, but progressive voters know this is a broken promise that puts the super wealthy ahead of the 99 percent of Garden State residents who work for a living.  
This should not come as a big surprise, since Governor Murphy and lawmakers also welched on promises to legalize pot, establish a state bank and restore the millionaires tax. 
No one in New Jersey should be working full time yet have to live in poverty, so the $10 an hour minimum wage is a pitiful alternative to a real $15 minimum wage, which amounts to a difference of $20,800 a year and $31,200 a year. 
This powerful trio failed to fulfill his obligation for the thousands of minimum wage workers who were promised $15 an hour, but people need to know that Murphy, Sweeney and Coughlin handed out pay hikes of up to $34,000 to hundreds of judges and his senior government staff. Those $34,000 pay hikes exceed the total income of working people who labor for $15 an hour! 
Congratulations to @GovMurphy on making a deal with @SenatorSweeney & @SpeakerCoughlin to increase the minimum wage to$10. It's too bad you sold out the working people who deserve a $15 minimum wage to get it! pic.twitter.com/0QLVnam3Ck

— Lisa McCormick (@LisaMcCormickNJ) January 19, 2019
In June of 2016, the New Jersey Senate passed legislation that would have made New Jersey the third state to adopt a $15 per hour minimum wage. The measure approved by these lawmakers and sent to former Republican Governor Chris Christie would have given New Jersey a $15 per hour minimum wage by 2021, six years sooner than this proposal provides some workers. 
A substantial minimum wage hike would lift thousands of families out of poverty, decrease dependency on government and boost commerce by pumping more dollars back into the economy, but this bill will push 
America had a 50-year period when the middle-class grew to include 65 percent of the population because we had a progressive tax system to bring people together, provide sufficient funds for investing in education, development and security, and insure that nobody got left behind. During that time, we had high top tax rates and a minumum wage that enabled workers to afford 
New Jerseyans are getting used to broken promises and lies, but political deceipt is just as unacceptable from liberal Phil Murphy as it is when con-man Donald Trump does the same thing. As voters, we must hold our elected officials accountable! 
In June, progressive Democrats should mount a primary challenge against every Assembly incumbent, and win those elections to raise minimum wage to $15 an hour.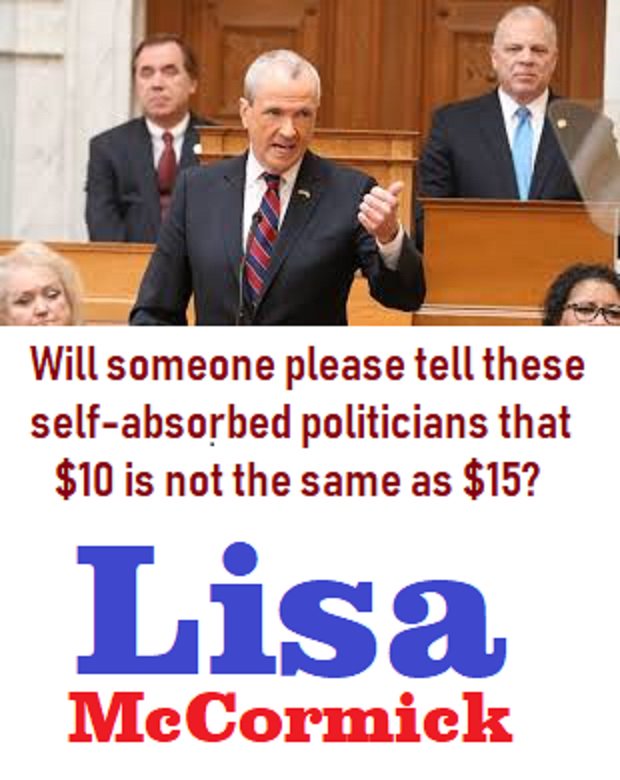 Do you like this post?